Rapid Assessment of Avoidable Blindness (RAAB)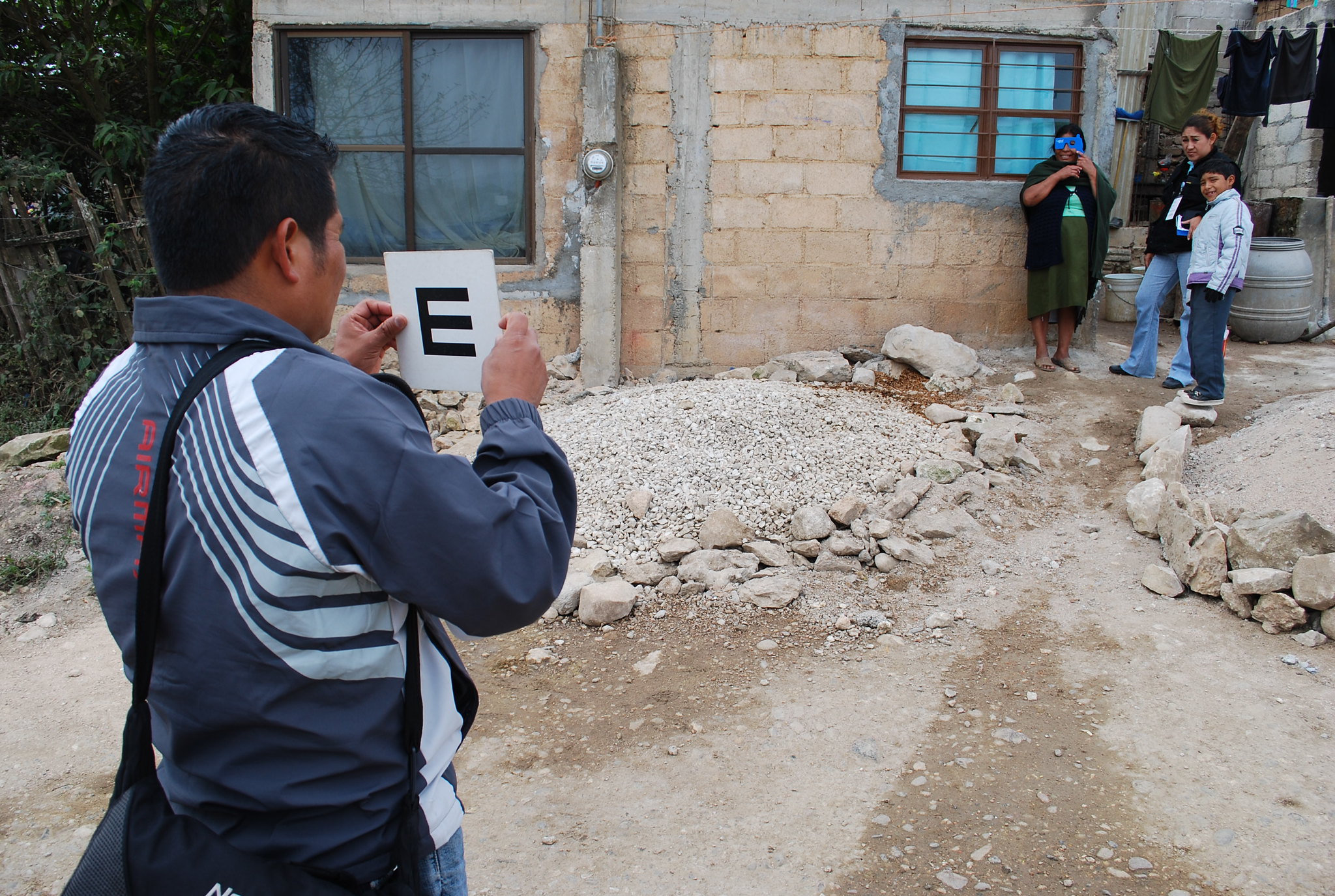 August 2020 COVID-19 Update from the RAAB7 team
Following the decision to pause all RAAB7 survey data collection until the end of June 2020, ICEH and Peek have developed new guidance for RAAB users considering restarting RAAB survey data collection.
RAAB users are reminded that, as a population-based eye health survey, RAAB is not a critical priority during this public health emergency, and RAAB users should avoid planning data collection that diverts public health resources or attention from COVID-19 risk mitigation.
Surveys may risk team-to-participant disease transmission and the RAAB population age-group (50+) has been shown to be at higher risk of severe outcomes from COVID-19 infection. Even without transmission, the visibility of survey teams during the pandemic may lead to misinformation and possible reputational damage if there is a perceived link between COVID-19 and RAAB.
As the pandemic has evolved, different countries have been affected to varying degrees. The new guidance has been developed to support RAAB users in assessing whether considering restarting RAAB survey data collection is appropriate in a specific context.
The guidance, including a Risk Assessment Matrix, is available on request from the RAAB team. Please contact Islay Mactaggart (islay.mactaggart@lshtm.ac.uk) for a copy of the guidance and the risk assessment matrix. The guidance describes the prerequisites for considering restarting RAAB survey data collection, and provides details of additional precautions that must be taken (including budget implications) to be able to safely complete data collections.
In brief, RAAB Trainers and users must not consider completing a RAAB if:
Clusters of Cases or Community Transmission is ongoing in any administrative division in the country of proposed use (use WHO Sit Rep Reports to determine this)
Social distancing (either 2m or 1m) is mandated in Government guidance or regulations (as this cannot be maintained when completing RAAB data collection)
Resources are not available to provide masks for all participants and team members
In addition, a brief COVID reported case status, exposure and symptom screen must be undertaken with participants prior to data collection, and enhanced advance sensitisation must be carried out to reassure participants about the study data collection. The Risk Assessment Matrix must be completed and returned to ICEH for approval before data collection using RAAB7 can begin.
Independent users of RAAB6 (the predecessor of RAAB7) are also strongly encouraged to use and adhere to the guidance, and to complete the Risk Assessment Matrix for their own records.
ICEH and Peek continue to work on building the RAAB7 system and RAAB Trainer online training resources during this time, in anticipation of surveys restarting later in 2020 or early in 2021.
Please feel free to contact Islay.Mactaggart@lshtm.ac.uk if you have any questions related to RAAB6 or RAAB7, or require any guidance on any upcoming RAAB data collection.
What is RAAB?
The Rapid Assessment of avoidable blindness (RAAB) is a rapid survey methodology developed at ICEH, and used to complete over 300 surveys of visual impairment and blindness to date.
RAAB is rapid because it uses simplified examination techniques and, because it only includes examination of people 50+, requires a small sample size.
RAAB incorporates a standardised training programme supported by certified RAAB Trainers, mobile data entry with in-built logic, and automated analysis and report generation. RAAB data are collated on the RAAB repository.
This page provides an overview of the purpose of RAAB, the current RAAB7 development project, what RAAB is not, and RAAB trainers that you can contact for support. In addition:
What is RAAB for?
The main aims of RAAB are:
to estimate the prevalence and causes of avoidable blindness and visual impairment in people aged 50 and above
to assess cataract surgical coverage
to identify the main barriers to the uptake of cataract surgery
to measure outcome after cataract surgery.
Using sound epidemiological methods, these data are used to design and monitor eye care programmes in the surveyed area.
RAAB was originally designed for use at the district level, but is equally a valuable tool for reporting on national level estimates.
RAAB7: the next generation of RAAB
RAAB has been developed iteratively over the years. The 7th generation of RAAB – RAAB7 – is currently under development as a joint project between ICEH and Peek Vision. RAAB7 will fully digitise the RAAB workflow, delivered on the Peek Vision platform.  It will further enhance RAAB's ability to support eye health planning and includes several new features that deliver higher integrity data and live tracking.
In addition, RAAB7 contains new modules developed to maximise the utility of RAAB in eye health planning. An optional disability module (using the Washington Group Short Set) has already been developed, and further new modules and inputs related to uncorrected refractive error, glaucoma and near vision are being explored.
RAAB7 is currently concluding testing and will be rolled out more widely soon.  For more information on early access to RAAB7, or to join a mailing list and receive RAAB7 updates, please contact Dr. Islay Mactaggart (islay.mactaggart@lshtm.ac.uk), who is leading this project at ICEH.
What RAAB is not
RAAB is not a case-finding exercise: it will not provide a list of names and addresses of all people who are blind due to (for example) cataract in an area.
RAAB is not a detailed vision survey: it provides a reasonably accurate estimate of the prevalence of blindness, and the proportion that is avoidable, in a geographic area. RAAB is not designed to give accurate estimates of the prevalence of specific causes of blindness and does not measure posterior segment disease in detail.
RAAB focuses on people aged 50 years and above and so it does not give an estimate of childhood blindness, which is better measured through other approaches such as the Key Informant Method.
RAAB6 does not provide data on human and financial resources, which are also imperative for eye health planning. However, a planning module and situational analysis support is being developed within the RAAB7 project.
Who should carry out a RAAB survey?
The entire process of carrying out a RAAB survey, from planning to the collection of field data, data analysis and report writing, can be conducted by local staff. 3-5 teams with transport can cover the usual required sample size in a minimum period of 5-6 weeks, including 1 week of training. The collection of data can be done by local ophthalmologists, or residents in ophthalmology, together with an assistant who does not need to be medically trained. The use of a local guide to introduce the survey team in the community is essential.
Want to carry out your own RAAB survey?
Good planning and organisation are vital for success. Although RAAB has the word "rapid" in its title it is neither easy nor straightforward to undertake. If the RAAB is not undertaken carefully and to a high quality then it will give biased results which will not help with planning or monitoring and will have wasted time and money. RAABs therefore need to be planned and undertaken carefully, and must be supported by a certified RAAB trainer. Further information on planning for a RAAB are available here. A full list of certified RAAB trainers by region is available at the bottom of this page. You must engaged with a certified RAAB trainer before undertaking a RAAB.
RAAB6 software package
The RAAB6 software package is for the entry and analysis of data from rapid assessment of avoidable blindness surveys (RAABs). The package contains software (Windows only), supporting documentation and training materials.
RAAB is coordinated by the International Centre for Eye Health and RAAB stakeholders are involved in RAABs updates and evolution. RAAB6 is currently available to download here.
Acknowledgements
We would to thank the organisations which have generously supported the development of RAAB:
Find out more
Contact us for more information on our research.
Contact us for details about ICEH certification for RAAB trainers.
For details of RAABs already carried out, please visit the RAAB repository