Cataract in adults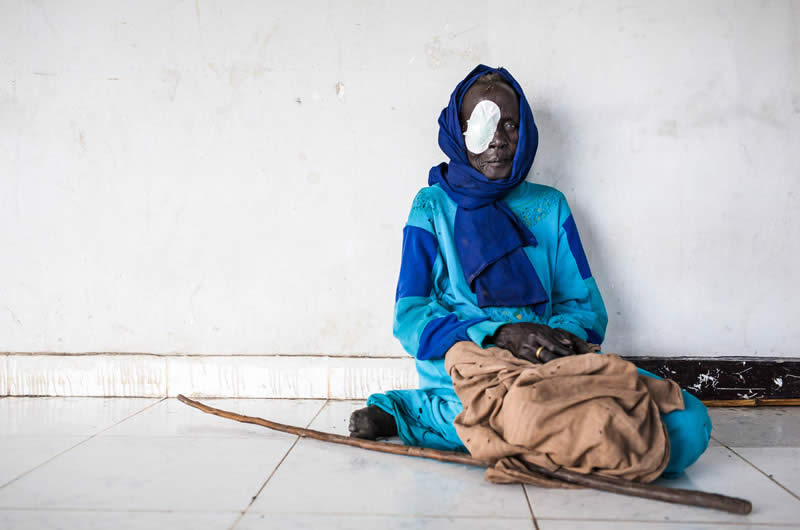 1. Cataract case mix study

Caption: Map showing global variation in preoperative visual acuity <6/60. Designed by Priya Morjaria
Establishing the evidence for planning effective cataract programmes
For cataract surgical service planning purposes what is considered an 'operable' cataract has become less clear. The cataract case mix study aims to establish the different visual thresholds used for cataract surgery in different countries. This information is essential for planning effective programmes to eliminate cataract blindness.
An exciting aspect of this study is the participation of a global network of eye care professionals, the International Eye Research Network (IERN). Scientists from developing countries are seriously under-represented in various areas of health research* and there is a need to develop and support research capacity in a more diverse range of centres around the world, particularly from lower income settings.
Find out more
Download a presentation on the IERN and the cataract case mix study (PDF 440Kb)
If you or your institution would like some more information on this study or on how to join IERN please contact us.
Acknowledgements
The study is funded by the BUPA Foundation
Publications
Shah SP, Gilbert CE, Razavi H, Turner EL, Lindfield RJ & on behalf of the International Eye Research Network. Preoperative visual acuity among cataract surgery patients and countries' state of development a global study. Bull World Health Organ 2011;89:749–756. Free access
Find out more
Contact us for more information on our research.
2. Cataract migration study
Cataracts occur at a younger age and are more common in Asia than in many other countries
The earlier age of onset of cataract in low income settings could be due to greater exposure to known risk factors, such as UV light and biomass cooking fuels, or there could be a genetic predisposition amongst individuals of Asian origin, or the greater risk could be due to an interaction between the two mechanisms. Migration studies are one way of disentangling genetic and environmental risk factors, as exposure to the latter are likely to vary in populations who migrate whereas they take any genetic risk with them. We have undertaken a pilot study of Bangladeshis who have migrated to London and those who did not migrate, to compare the proportion with significant lens opacities.
Publications
Gilbert et al Finger RP, Sivasubramaniam S, Morjaria P, Bansal A, Muhit M, Kinra S, Gilbert CE. Migration study of lens opacities in Bangladeshi adults in London and Bangladesh: a pilot study. Br J Ophthalmol. 2015 Jun;99(6):762-7. doi: 10.1136/bjophthalmol-2014-305971. Epub 2015 Jan 6. Article.
3. Costs of cataract surgery
Background
Cost is frequently reported as a barrier to cataract surgery, but few studies have reported costs of accessing surgery in Africa. The purpose of this prospective, facility based study was to compare direct non-medical cost with total direct cost of cataract surgery to patients, and to assess how money was found to cover costs.
Despite the subsidy, cost is still likely to be a barrier to accessing cataract surgery, as the total direct costs represented at least 50 days income for 70% of the local population. Provision of transport would reduce direct non-medical costs.
Publication
N. Ibrahim, F. Pozo-Martin. C.E. Gilbert. Direct non-medical costs double the total direct costs to patients undergoing cataract surgery in Zamfara state, Northern Nigeria: a case series. BMC Health Systems Research 2015. 15: 163-169. Article.
4. Pre-senile cataract in India – birth cohort study

Caption: A female eye care worker (right) supports mothers in the Mumbai community where she lives. INDIA. Photo: Shilpa Vinod Bhatte
Identifying the risks for early onset cataract in India
There is increasing evidence that early life events as well as exposure to risk factors across a life time increase the risk of chronic disease. It has also been postulated that greater exposure to risk factors such as ultraviolet light, poor diet, frequent episodes of dehydration, and more frequent childbearing explain why cataract is more common in developing countries than in industrialised nations and why cataract develops at a younger age.
We are examining the eyes of individuals whose mothers were recruited while pregnant to a birth cohort study over 40 years ago in Vellore, India. The children of these mothers are now at risk of early lens opacities and they are being invited for interview and examination. Data will be analysed to assess whether factors such as the socio-economic status of the mother at the time of deliver, the weight of her child at birth and exposure to biomass cooking fuels during childhood increase the risk of early onset cataract.
Funding:
Sightsavers and a scholarship from the Wellcome Trust
Collaborators:
Vellore Christian Medical College, India
Public Health Foundation of India, Hyderabad
5. Cataract and mortality
There is evidence from several studies that individuals who develop age-related cataract have a higher mortality than those of the same age and gender who do not have cataract. Most data have come from high income settings. Follow up and re-examination of individuals required to a cross sectional prevalence study, the Andhra Pradesh Eye Disease Study, APEDS) 10-12 years later, has provided data which shows that those with cataract at baseline had a higher mortlaity rate than those without.
Publication:
Rohit C Khanna,Gudlavalleti V S Murthy, Pyda Giridhar, Sannapaneni Krishnaiah, Ghanshyam Palamaner Subash Shantha, Subhabrata Chakrabarti, Clare Gilbert and Gullapalli N Rao. Cataract, visual impairment, blindness and age-related macular degeneration and risk of mortality in rural Andhra Pradesh, 10-12 years after the Andhra Pradesh Eye Disease Study (APEDS), India. PLOS ONE 2013 8: October 2013 | Volume 8 | Issue 10 | e78002. Article.