Cataract in children
Caption: Young boy who is blind from bilateral cataract in Bangladesh.
1. Cataract in children
As corneal blindness is declining, as a result of socioeconomic development and specific control programmes for measles and vitamin A deficiency, cataract is now one of the commonest causes of avoidable blindness in children globally. However, surgery is more complex than in adults, and children often present late both of which can compromise the visual outcome of surgery.
Publications
Negretti GS, Ayoub T., Ahmed S., Deb R., Majumder U., Jewel J,, Muhit M., Gilbert CE and Richard JC Bowman. Cataract surgery outcomes in Bangladeshi children. Ophthalmology. 2015 Feb 19. pii: S0161-6420(15)00083-4. Article.
Gilbert Clare. Changing challenges in the control of blindness in children. Eye 2007 21: 1338-43. Abstract.
Hennig A, Schroeder B, Gilbert Bilateral pediatric cataract surgery: outcomes of 390 children from Nepal and Northern India. J Pediatr Ophthalmol Strabismus. 2013 Sep-Oct;50(5):312-9. doi: 10.3928/01913913-20130402-01. Epub 2013 Apr 9. Abstract.
Watch an educational DVD on managing childhood cataract which is based on a DVD made by Albrecht Hennig and his team at Lahan, Nepal. The DVD was based on many years experience and careful monitoring of operative and post operative outcomes – see publication above.
Paediatric Cataract Surgery
#1 – Introduction
#2 – Step By Step
#3 – Special Situation
#4 – Management of Difficult Situations
#5 – Post Op. Managment
2. Low vision care for children after cataract surgery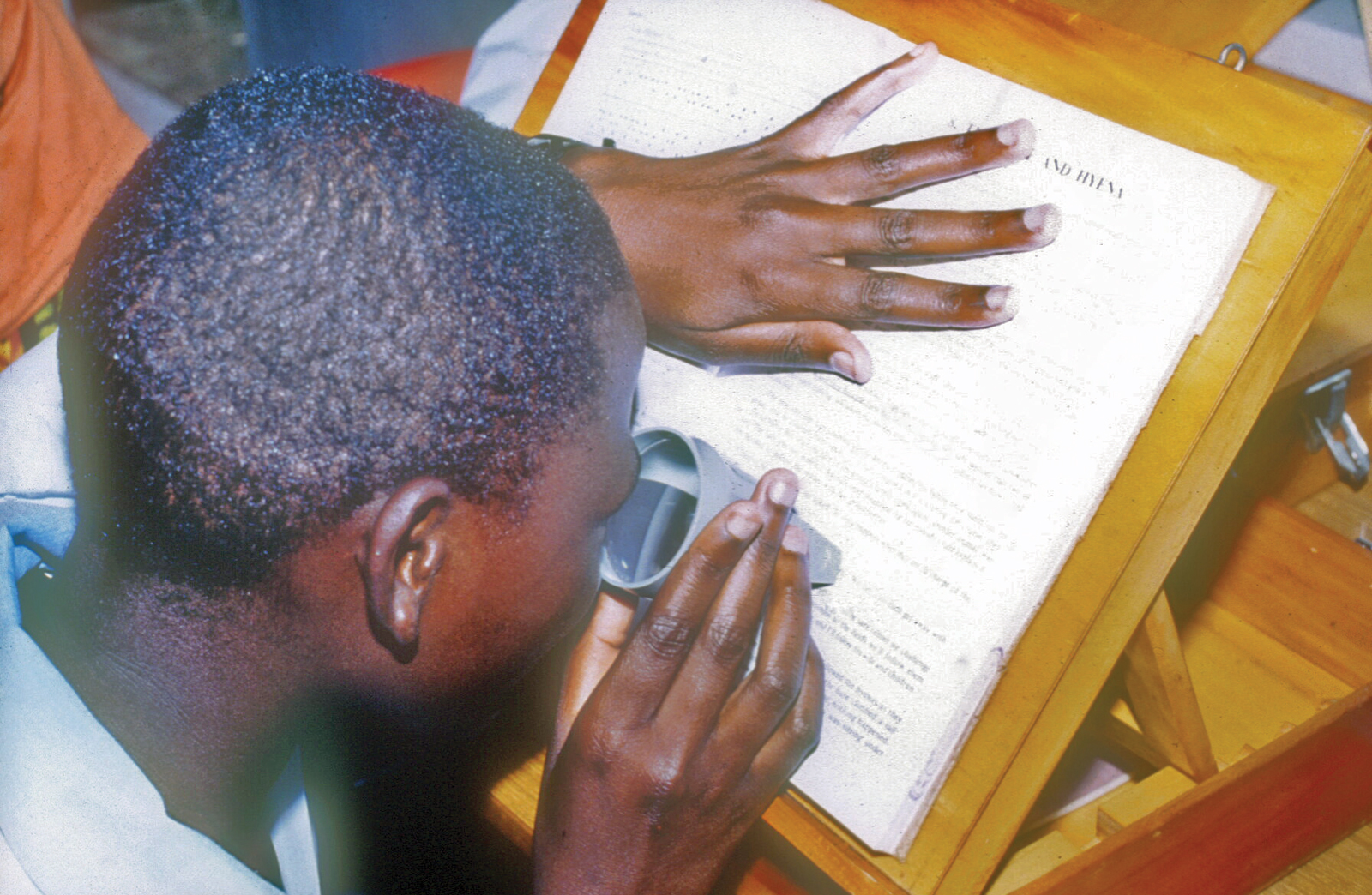 Caption: : Boy with low vision using a magnifier and reading stand in Uganda.
Assessing the need
In developing countries children often present very late with cataract which means that visual outcomes can be poor. These children have the potential to benefit from low vision services but many children are not referred. The purpose of this study, which will start shortly, is to assess the need for low vision care amongst children following surgery for bilateral cataracts in Bangladesh and Tanzania.
Funding
British Council for the Prevention of Blindness
Collaborators
Chittagong and Eye Institute and Training Centre, Chittagong, Bangladesh
Centre for Community Based Rehabilitation and Training, Dar es Salaam, Tanzania
Muhimbili Eye Hospital, Dar es Salaam, Tanzania
Image credit: Top, young boy with cataract blindness. BANGLADESH. Photo: Child Sight Foundation. Bottom, using a stand magnifier for near vision. UGANDA.