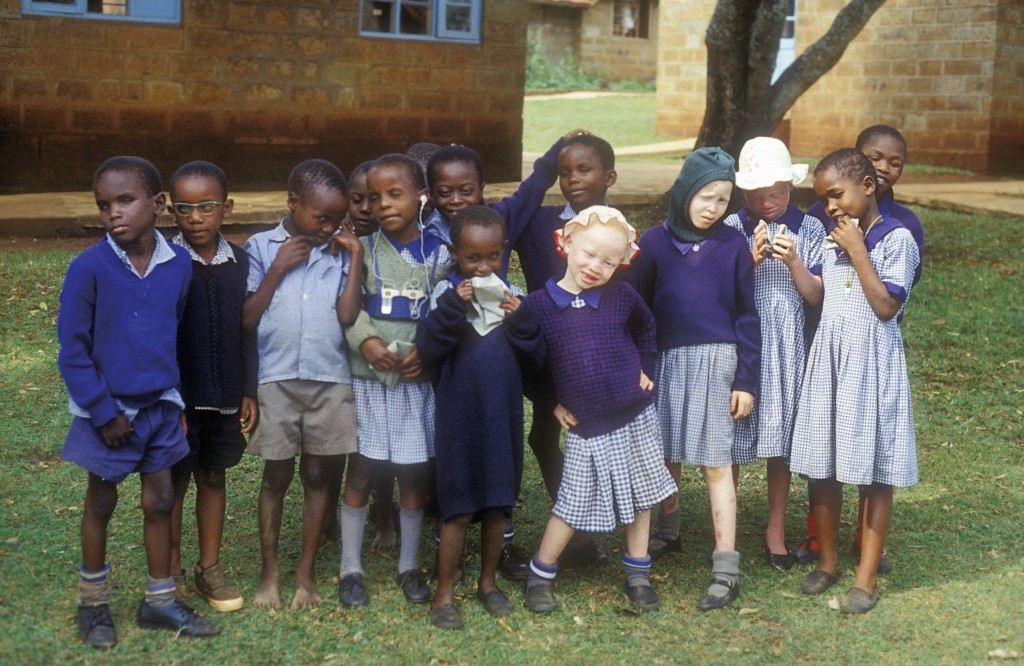 Caption: Children who are blind in a special school in Kenya.
Causes / Epidemiology of Assessing the Causes of Blindness in Children
Many studies using different methods have been used to determine the pattern of causes of blindness in children, and to describe other aspects of the epidemiology.
Publications
Gilbert C. and Awan H. Blindness in children – half of it is avoidable and suitable cost effective interventions are available. Editorial. Brit Med. J. 2003 327 760-761. Article.
Kello AB., and Gilbert CE. Causes of Severe Visual Impairment and Blindness in Children in Schools for the blind in Ethiopia. Brit. J. Ophthalmol. 2003 87 526-530. Abstract.
Titiyal Jeewan S, Pal Nikhil, Murthy, G.V.S., Gupta Sanjeev K., Tandon Radhika, Vajpayee Rasik B., and Gilbert Clare E. Causes and temporal trends of blindness and severe visual impairment in children in schools for the blind in North India. J. Ophthalmol. 2003 87 941-945. Abstract.
Muhit M, Gilbert C. A review of the epidemiology and control of childhood blindness. Trop Doct. 2003 33 197-201
Gogate Parikshit, Deshpande M., Sudrik Sudhir, Taras Sudhir, Dr. H. Kishore H., and Gilbert Clare. Changing pattern of childhood blindness in Maharashtra, India. Brit J. Ophthalmol. 2007 91: 8-12. Abstract.
Zeidan Abdu, Khalid Hashim, MA Muhit and Clare Gilbert. Prevalence and causes of childhood blindness in children in camps for displaced persons in Khartoum: results of a household survey. East Med Health J. 2007 13 580-585. Abstract.
Gilbert Clare. Changing challenges in the control of blindness in children. Eye 2007 21: 1338-43. Article.
Gogate P. And Gilbert C. v. Comm Eye Health J. 2007 20: 32-33. Abstract.
Gilbert CE., Ellwein LB. on behalf of the Refractive Error Study in Children Survey Group. The prevalence and causes of functional low vision in school-age children: results from standardized population surveys conducted in Asia, Africa and Latin America. Invest Oph Vis Sci. 2008 49 877-881. Abstract.
Bhattacharjee H., Das K., Borah RR., Guha K., Gogate P., Purukayastha S. and Gilbert C. Causes of Childhood Blindness in North Eastern States of India. Indian J Ophthalmology 2008 56(6):495-9. Abstract.
Foster A., GIlbert C., and Johnson G. Changing patterns in global blindness: 1988-2008 Comm Eye Health J 2008 21(67) 37-39. Abstract.
Gogate P., Kishore H., Dole K., Shetty J. and Clare Gilbert. The pattern of childhood blindness in Karnataka, South India. Ophthalmic Epidemiol. 2009 16: 212-7. Abstract.
Baiyeroju A, Bowman R, Gilbert C, Taylor D. Managing eye health in young children. Community Eye Health. 2010 23(72):4-11. Abstract.
Chandna A, Gilbert C. Editorial. When your eye patient is a child. Eye Health. 2010 23(72):1-3. Abstract.
Patel DK., Tajunisah I., Gilbert and Subrayan V. Causes of blindness in children in Malaysia. Eye 2011 25(4): 436-442. Abstract.
Gogate P., Gilbert C. and Zin A. Severe visual impairment and blindness in infants: causes and opportunities for control. Middle East East Afr J Ophthalmol. 2011 18 109-114. Abstract.
Gogate P, Soneji FR, Kharat J, Dulera H, Deshpande M, Gilbert C. Ocular disorders in children with learning disabilities in special education schools of Pune, India. Indian J Ophthalmol. 2011 59: 223-8. Article.
Quinn G and Gilbert C Supporting collaborations to prevent blindness in children in resource-poor settings. Exp Rev Ophthalmol 2011 6(3): 339-346. Article.
Hans Limburg, Clare Gilbert, Do Nhu Hon, Nguyen Chi Dzung and Tran Huy Hoang. Prevalence and causes of blindness in children in Vietnam. Ophthalmology. 2012 119: 355-361. Abstract.
Gilbert, Clare and Muhit Mohammed. Eye conditions and blindness in children: priorities for research, programmes and policy with a focus on childhood cataract. Indian J Ophthalmol. 2012 60: 451-455. Abstract.
Kong, L., Fry, M., Al-Samarraie, M., Gilbert, C., Steinkuller, P.G. An update on progress and the changing epidemiology of causes of childhood blindness worldwide. Journal of AAPOS 2012 16 (6), pp. 501-507. Abstract.
Book Chapters
World-Wide Causes of Blindness in Children. Gilbert CE. Chapter 5 in Pediatric Ophthalmology: Current Thought and Practice.  Ed Wilson E., Saunders RA and Trivedi RH. Pub. Springer 2008.
Epidemiology of visual impairment and blindness in children in Epidemiology of Eye Disease. 3rd Edition. 2011 Ed. G Johnson, D Minassian, R Weale, S West.  Publisher: Imperial College Press/World Scientific, London and Singapore
World-wide blindness in children Gilbert CE. Hartnett ME, Trese M, Capone A, et al. in Pediatric Retina, 2nd ed. Philadelphia: Lippincott   Williams & Wilkins, 2013.
Epidemiology of visual impairment in children Rahi J. and Gilbert C. Pediatric Ophthalmology and Strabismus. 2015 4th Ed. Scott Lambert and Christopher Lyons. Saunders, Elsevier Ltd. In press