Diabetic Retinopathy in India: The Queen Elizabeth Diamond Jubilee Trust DR Project
A Diabetic Retinopathy pilot project was implemented in 10 districts in 10 selected states from 2014-2019 as part of the Queen Elizabeth Diamond Jubilee Trust (The Trust) wider programme to prevent avoidable blindness across the Commonwealth. The objective of this initiative was to pilot integrated models of comprehensive, sustainable and replicable DR care embedded in the public health system.
During the course of the programme implementation several operational research projects were conducted. Different interventions to promote DR screening were tested, including health education, screening at the point of care, financial incentives for health workers and health education delivered by community peer support groups. The accuracy of smartphone-based technology to detect DR was also evaluated. The programme also resulted in the publication of national diabetic retinopathy guidelines for India.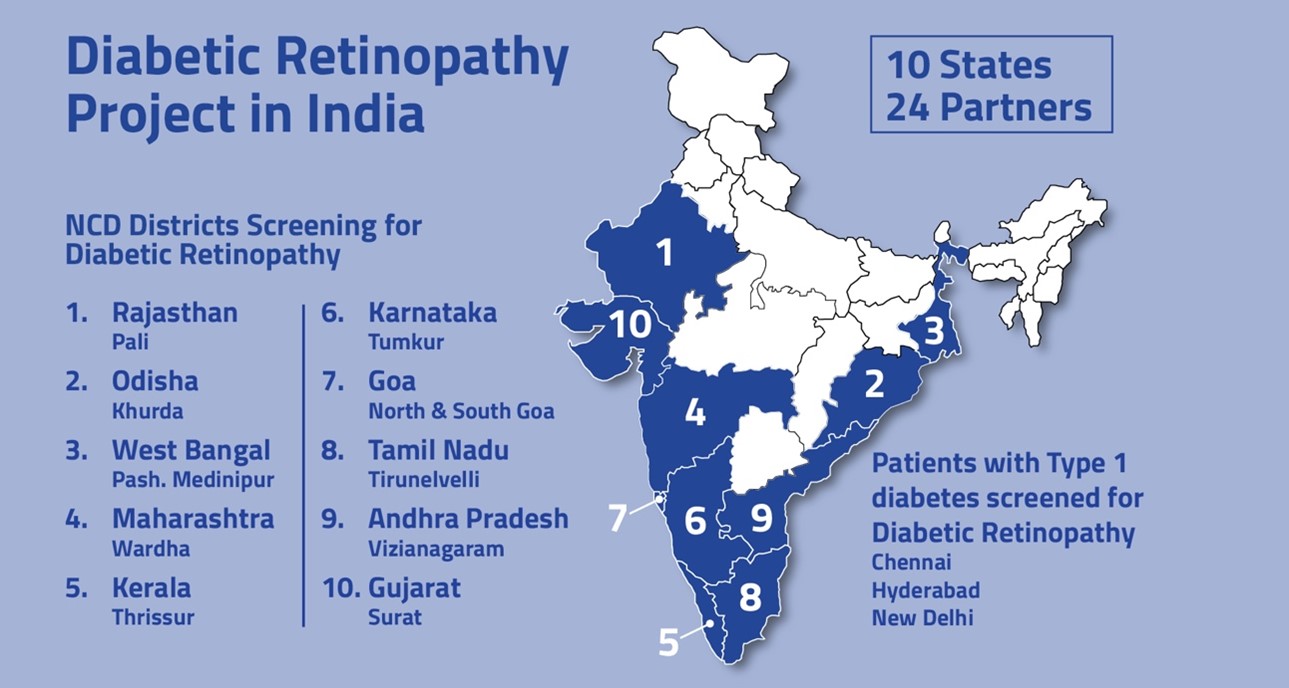 Acknowledgements and funding
The project and related research were funded by The Queen Elizabeth Diamond Jubilee Trust, London, UK.
Premier academic leaders (All India Institute of Medical Sciences; Goa Medical College; Government Medical College, Chandigarh; Post Graduate Institute of Medical Education and Research; Mahatma Gandhi Institute of Medical Sciences Wardha), prominent non-governmental institutions (Aravind Eye Care System Tirunelveli; Global Hospital Institute of Ophthalmology Abu Road; HV Desai Eye Institute Pune; LV Prasad Eye Institute Hyderabad; Little Flower Eye Hospital Angamaly; Mohan's Diabetes Specialities Centre Chennai; Pushpagiri Eye Institute Hyderabad; Tejas Eye Hospital Mandvi; Vittala International Institute of Ophthalmology Bengaluru; and Diabetes Research Society Hyderabad) and the respective state governments joined hands in this unique pilot project. The Ministry of Health and Family Welfare, Government of India provided oversight through the establishment of National Task Forces.
Associated materials 
The Emerging Epidemic of Diabetic Retinopathy in India. Report of a Situation Analysis and Evaluation of Existing Programmes for Screening and Treatment for Diabetic Retinopathy: https://blogs.lshtm.ac.uk/iceh/files/2015/01/Trust-situational-analysis-of-DR-in-India_FINAL-report-April-2015.pdf
Guidelines for the Prevention and Management of Diabetic Retinopathy and Diabetic Eye Disease in India: https://phfi.org/wp-content/uploads/2019/09/2019-Guidelines-for-the-Prevention-and-Management-of-Diabetic-Retinopathy.pdf
Associated publications 
Ramagiri R, Kannuri NK, Lewis MG, Murthy GVS, Gilbert C. Evaluation of whether health education using video technology increases the uptake of screening for diabetic retinopathy among individuals with diabetes in a slum population in Hyderabad. Indian J Ophthalmol. 2020 Feb;68(Suppl 1):S37-S41. doi: 10.4103/ijo.IJO_2028_19. PMID: 31937727; PMCID: PMC7001174. https://www.ncbi.nlm.nih.gov/pmc/articles/PMC7001174/
Raj P, Singh S, Lewis MG, Shukla R, Murthy GVS, Gilbert C. Diabetic retinopathy screening uptake after health education with or without retinal imaging within the facility in two AYUSH hospitals in Hyderabad, India: A nonrandomized pilot study. Indian J Ophthalmol. 2020 Feb;68(Suppl 1):S56-S58. doi: 10.4103/ijo.IJO_2119_19. PMID: 31937731; PMCID: PMC7001171. https://www.ncbi.nlm.nih.gov/pmc/articles/PMC7001171/
Prathiba V, Rajalakshmi R, Arulmalar S, Usha M, Subhashini R, Gilbert CE, Anjana RM, Mohan V. Accuracy of the smartphone-based nonmydriatic retinal camera in the detection of sight-threatening diabetic retinopathy. Indian J Ophthalmol. 2020 Feb;68(Suppl 1):S42-S46. doi: 10.4103/ijo.IJO_1937_19. PMID: 31937728; PMCID: PMC7001191. https://www.ncbi.nlm.nih.gov/pmc/articles/PMC7001191/
Gudlavalleti AG, Gilbert C, Shukla R, Gajiwala U, Shukla A, Murthy GVS, Batchu T, Mukpalkar S, Bala Vidyadhar MS, Sheikh A. Establishing peer support groups for diabetic retinopathy in India: Lessons learned and way ahead. Indian J Ophthalmol. 2020 Feb;68(Suppl 1):S70-S73. doi: 10.4103/ijo.IJO_1928_19. PMID: 31937735; PMCID: PMC7001185. https://www.ncbi.nlm.nih.gov/pmc/articles/PMC7001185/
Chariwala RA, Shukla R, Gajiwala UR, Gilbert C, Pant H, Lewis MG, Murthy GVS. Effectiveness of health education and monetary incentive on uptake of diabetic retinopathy screening at a community health center in South Gujarat, India. Indian J Ophthalmol. 2020 Feb;68(Suppl 1):S52-S55. doi: 10.4103/ijo.IJO_2118_19. PMID: 31937730; PMCID: PMC7001183. https://www.ncbi.nlm.nih.gov/pmc/articles/PMC7001183/
Gilbert C, Gordon I, Mukherjee CR, Govindhari V. Guidelines for the prevention and management of diabetic retinopathy and diabetic eye disease in India: A synopsis. Indian J Ophthalmol. 2020;68(Suppl 1):S63-S66. doi:10.4103/ijo.IJO_1917_19 https://www.ncbi.nlm.nih.gov/pmc/articles/PMC7001190/
Murthy GVS, Sundar G, Gilbert C, Shukla R; IIPH DR Project Implementation Core Team. Operational guidelines for diabetic retinopathy in India: Summary. Indian J Ophthalmol. 2020;68(Suppl 1):S59-S62. doi:10.4103/ijo.IJO_1966_19 https://www.ncbi.nlm.nih.gov/pmc/articles/PMC7001164/
Specific contacts
Prof. GVS Murthy, gvs.murthy@lshtm,ac.uk , murthy.gvs@iiphh.org
Prof. Clare Gilbert, clare.gilbert@lshtm.ac.uk