DR-NET in action – Malawi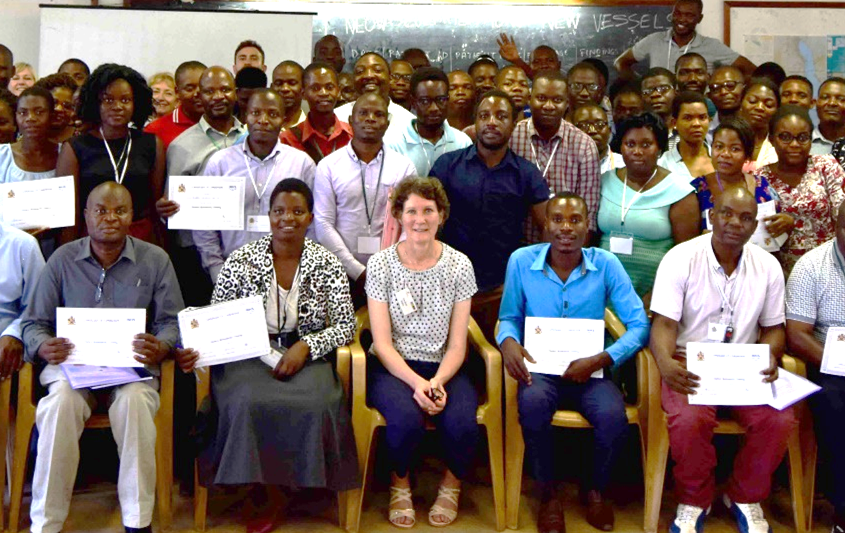 By Dr Caroline Styles, VISION 2020 LINK partner and Lead Clinician for Diabetic Retinopathy Screening Scotland:
"Our team from Fife has been visiting Malawi annually since 2015. Our aim has been to develop capacity for screening and treatment for diabetic retinopathy (DR). Most recent figures put the population of Malawi at 18 million. The number of consultant ophthalmologists working in Malawi is gradually growing following the development of a training programme in Blantyre, but the number has only risen to 8. This is in contrast to NHS Fife, which has the same number of consultant ophthalmologists for a population of less than 400,000 people.
We therefore identified the need for training of other cadres within Malawi to manage the workload. To achieve this, we arranged and delivered a teaching programme for health care professionals working across all regions of Malawi. This teaching programme began in 2015 and to date we have taught 206 ophthalmic clinical officers (OCOs), ophthalmic technicians (OTs), nurses and optometrists.
This year we had 64 new participants. There were 18 OCOs, 15 optometrists, 26 optometry technicians, four ophthalmic nurses and one cataract surgeon. Participants were from all regions of Malawi including the far northern border with Tanzania. The teaching team comprised five ophthalmologists and trainees from Scotland and six ophthalmologists from Malawi.
The three-day course consisted of lectures and small group teaching sessions given jointly by the Scottish and Malawian eye health professionals. All delegates were provided with Arclight ophthalmoscopes to use as a tool for screening. Every day included a session for examination of patients using the Arclight and slit lamps. Teaching material in a pack for each delegate was provided including handouts from lectures, Arclight instruction page and laminated DR referral posters for local clinics.
Malawian ophthalmologist Moira Gandiwa presented the DR programmes currently running at the main hospitals in Lilongwe and Blantyre. A local physician explained the physiology of diabetes to the delegates and a diabetes patient described how she manages the disease and what it is like to live with a chronic disease in Malawi. All participants undertook a written assessment to ensure they had absorbed the relevant information from the course. We were pleased to see that everybody passed, with the vast majority achieving scores of 85% or higher. Three delegates achieved full marks and were awarded prizes for their efforts.
We asked the participants how they would change their practice in the future. This prompted discussion about how to develop screening services within the local community, how to educate colleagues and, importantly, how to educate communities about the effect diabetes has on sight. All delegates identified steps that they would take on their return to their base hospitals and clinics to develop screening for DR.
Examples of feedback comments:
"The presentations were simple and clear to understand, the training has been so great with positive impact, I'm hoping to see DR screening implemented in all districts across Malawi. I will take part to support this initiative."
"It has been a good experience for we have learned a lot of things and it made me confident to screen diabetic patients." 
[This is an abbreviated version of an article published in Aug/Sept 2019 issue of Eye News]