The following blog is written by Dr Mattan Arazi, Opthalmology resident at Sheba Medical Center, Israel.
1
Mombasa, a port city and second largest city in Kenya, with a population of over 1.3 million people. A city situated right off the coast looking over the Indian Ocean. A place known to the locals as the as "the white and blue city" with diverse beaches, cultural activity and flourishing tourism. A perfect city to hold the first major International Society of Ocular Oncology (ISOO) conference in Africa, wouldn't you say?
From August 21-23, 2023, ISOO Africa will bring together experts from all over the world to Mombasa, in order to discuss the most pressing topics in the field of eye tumors facing the African Continent.
ISOO is a non-profit organization that aims at advancing and promoting ocular oncology across the world. Back in the 1970s and 80s there were few ocular oncologists worldwide. Most patients with an eye tumor were managed by general eye doctors or other specialists. At that time, education for ocular oncology was limited to a few paper or poster presentations. Nowadays, the ISOO mission is to promote the advancement of ocular oncology by encouraging research, international collaboration, and, above all, education.
Africa presents unique challenges in the field of ocular oncology; this inaugural event will have an exciting program with distinguished speakers both from the region and the rest of the world. These topics will be discussed in detail with lectures from international and regional speakers, case study presentations, and oral presentations from abstract submissions.
In this region ocular melanoma is considered somewhat rare, but retinoblastoma continues to haunt the African continent – while a highly curable malignancy if treated early, most babies across the region due not survive due to poor education, financial constraints, a lack of specialists, and poor access to care.
A little over two months from now I will become well acquainted with this "white and blue city," as I prepare myself for this inaugural and diversified event.
Stay tuned for further updates to this blog.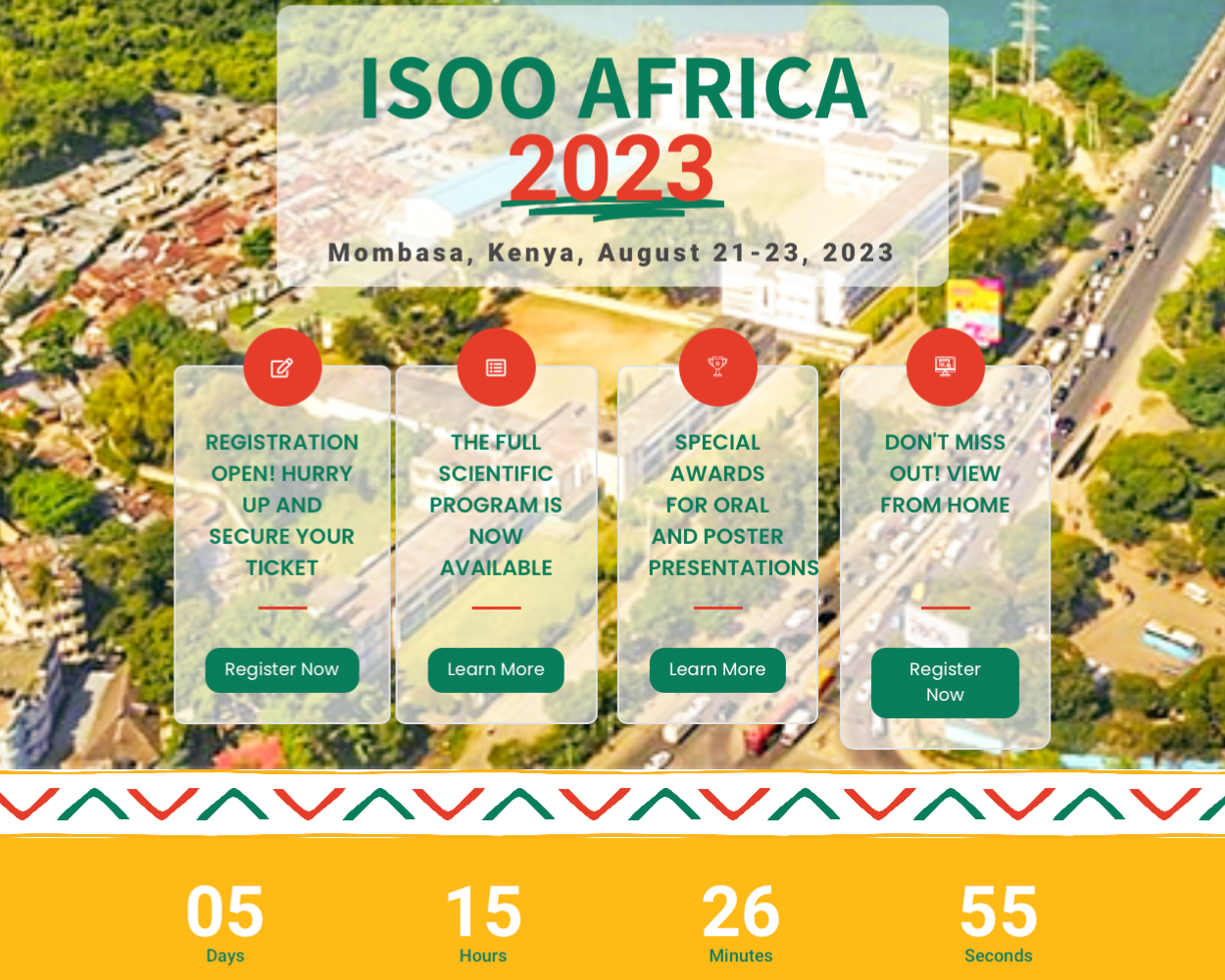 2
In less than one week, I will begin my journey to the white and blue city, where I will immerse myself among a group of passionate and talented individuals who have traveled across the African continent (some even across the world) to share their knowledge and expertise on ocular oncology.
If you think about it, ISOO Africa represents much more than a scientific conference. This international meeting not only uncovers the discrepancies we see in eyecare worldwide (financial constraints, lack of specialists, geographic distance, etc.) but aims to overcome these barriers through a collaborative network of ophthalmologists, oncologists, researchers and caretakers, all meeting in the glorious city of Mombasa. 
Did you know that the conference even helped subsidize African physicians to attend the meeting, completely free of charge?
The conference will serve as a platform for international collaboration, providing opportunities for local African physicians to network with international experts in the field of ocular oncology, as well as discuss the multifaceted challenges that face the African continent in this respective field. ISOO Africa will focus on capacity building by providing inexperienced local physicians to return back to their home communities and implement the valuable knowledge they required from these leading specialists. Furthermore, ISOO Africa will strengthen the WHO Global Initiative for Childhood Cancer, which aims to improve retinoblastoma survival outcomes by 2030. Finally, the conference will allow for virtual participation for any healthcare provider across the world unable to make it in person: https://isooafrica2023.com/virtual-meeting-registration/
Importantly, at the conference, the Victoria Cohen Eye Cancer Charitable Trust will be providing awarding scholarships to aspiring ocular oncologists in need of financial assistance for their fellowships, anywhere in the world. 
I'm in particular most enthusiastic about the field of retinoblastoma during ISOO – a personal passion of mine that I share with and under the guidance of Prof. Ido Didi Fabian – which represents a true model of health inequity worldwide: in high-income countries, the cancer is practically curable, and management is geared towards saving the eye and even vision. However, in some underdeveloped nations (many of which will be attending this conference), most babies to not survive. This disparity in eye-care must be rectified!
ISOO Africa isn't just a conference. It is a paradigm of global ophthalmology.