ICEH, MSc Public Health for Eye Care Alumna, Research Fellow and PhD Student: Priya Morjaria receives the Paul Berman Young Leader Award at the 2nd World Congress of Optometry in Hyderabad India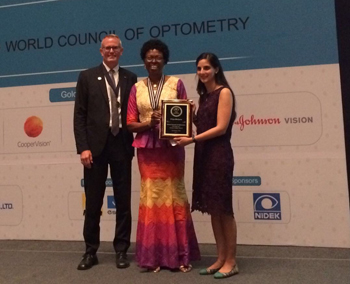 The Paul Berman Young Leader Award is awarded to an optometrist who has made an outstanding contribution over time to the achievement of the WCO's Vision and Mission and shows promising future leadership in world optometry.  Priya has been nominated by peers due to her dedication to improving the lives of others and incredible attention to detail as well as her ability to build relationships and through them deliver world class research and policies that can impact the lives of many.
Priya's research work primarily on improving the efficiency of school programmes for uncorrected refractive error in India.
The award is given by the Governing Board of the World Council of Optometry (WCO) in collaboration with the Brien Holden Vision Institute, Essilor International, Lions Clubs International Foundation and the Special Olympics.
Congratulations Priya!